The last couple of months have been pretty insane and I am sorry for not updating this site recently.
The penny campaign is still going, so don't worry if you haven't been able to get your collection in yet. We're a long way from the 1.5 billion pennies we need, so we really need your help to build 10 playgrounds and 2 foster homes. For more details, please read more here.
I had the amazing privilege of addressing the General Assembly of First Nations this summer and said something that I truly believe. "What I have been doing for the past 3 years is not charity. What I have been doing for the past 3 years is justice. It's making something right that should have been right."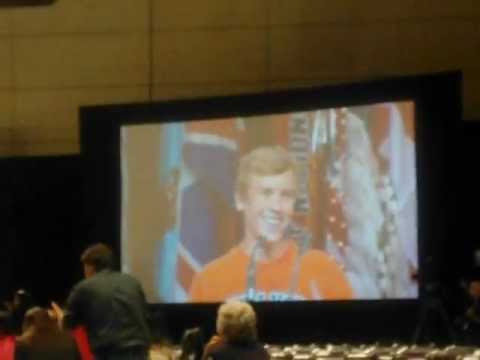 First Nations children do not need or want our pity or our charity. Of course there are times when we need to do charitable acts, like bringing humanitarian aid to communities that desperately need help. In fact, that is how my journey began 3 years ago; by helping TrueNorthAid raise money and aid for the community of Attawapiskat. But what I believe First Nations communities need more than occasional emergency relief, is an end to the inequality that creates a need for emergency relief to communities in Canada.
I haven't met anyone yet who has been able to explain to me how it is fair that a First Nations child receives thousands of dollars less in funding than me and my friends in Niagara Falls (and everywhere else in Canada) for education.
How is it fair that in Niagara Fall, we have 55 playgrounds, when so many First Nations kids have never even seen a playground?
Please explain to me why First Nations kids are not provided the same level of access or funding to decent healthcare.
And why is it, that even though there are more First Nations children in care right now than ever in the history of Canada that they receive less funding per child than non-aboriginal children?
If clean water is a right, then why is it that a majority of First Nations reserves can't drink their water without boiling it first?
There are so many things like this that I don't understand – or want to understand. All that matters is that we as Canadians stop this craziness.
When Claudette Colvin (a 15 year old African American) decided that she would not give up her seat on the bus because of the colour of her skin, she didn't know she would be giving her teacher Rosa Parks the courage and inspiration to do the same. She din't know that she would be starting a movement that would change the world. All she knew was that discrimination was wrong and she was not going to stand for it (literally).
Shannen Koostachin didn't know that her dream of becoming a lawyer would mean she would be risking her life. But that is the
reality for First Nations kids with a dream. In order to receive a level of education that was at least equivalent to the rest of Ontario's students, she would have to leave her home and go to high school hundreds of miles away.
She didn't know that speaking up for her right to an education and a proper school would launch the largest youth-led movement in Canada's history. But it did.
It is time for a revolution in Canada.
I'm not sure a revolution is something you can plan for. A revolution begins with a spark. Claudette was the spark for the Civil Rights movement. Shannen is the spark for this new movement.
I see this movement being one that no longer recognizes the differences between First Nations and non-aboriginals. This is a revolution that will once and for all tear down the barriers that bring inequality and injustice. This is a movement that will not be politically based, but will keep our governments to the high standard of non-discrimination on any basis. This is not a right thing or a left thing – this is a right or wrong thing. This coming revolution will see the end of "us and them" and see only "we".
There is only one race – the human race – and this is our revolution.
"Never doubt that a small group of thoughtful, committed citizens can change the world. Indeed, it is the only thing that ever has" Margaret Mead